Audi promotes the circular economy
Sustainability is the core of Audi's company strategy. Audi is working continually to reduce its ecological footprint, for example through the responsible handling of resources. The vision is a closed circular economy: reduce, reuse, recycle.
Audi waste water-free
In order to achieve the ambitious goal of a circular economy, Audi thinks sustainably – and this starts in production. The vision is to manufacture vehicles at all Audi sites without producing any waste water at all. The San José Chiapa site in Mexico serves as a model. There, all waste water is treated before it is fed back into the plant's water system. After being treated, the hygienically clean water is reused in production – or to water green areas, for example. The next step is an even greater saving in groundwater consumption.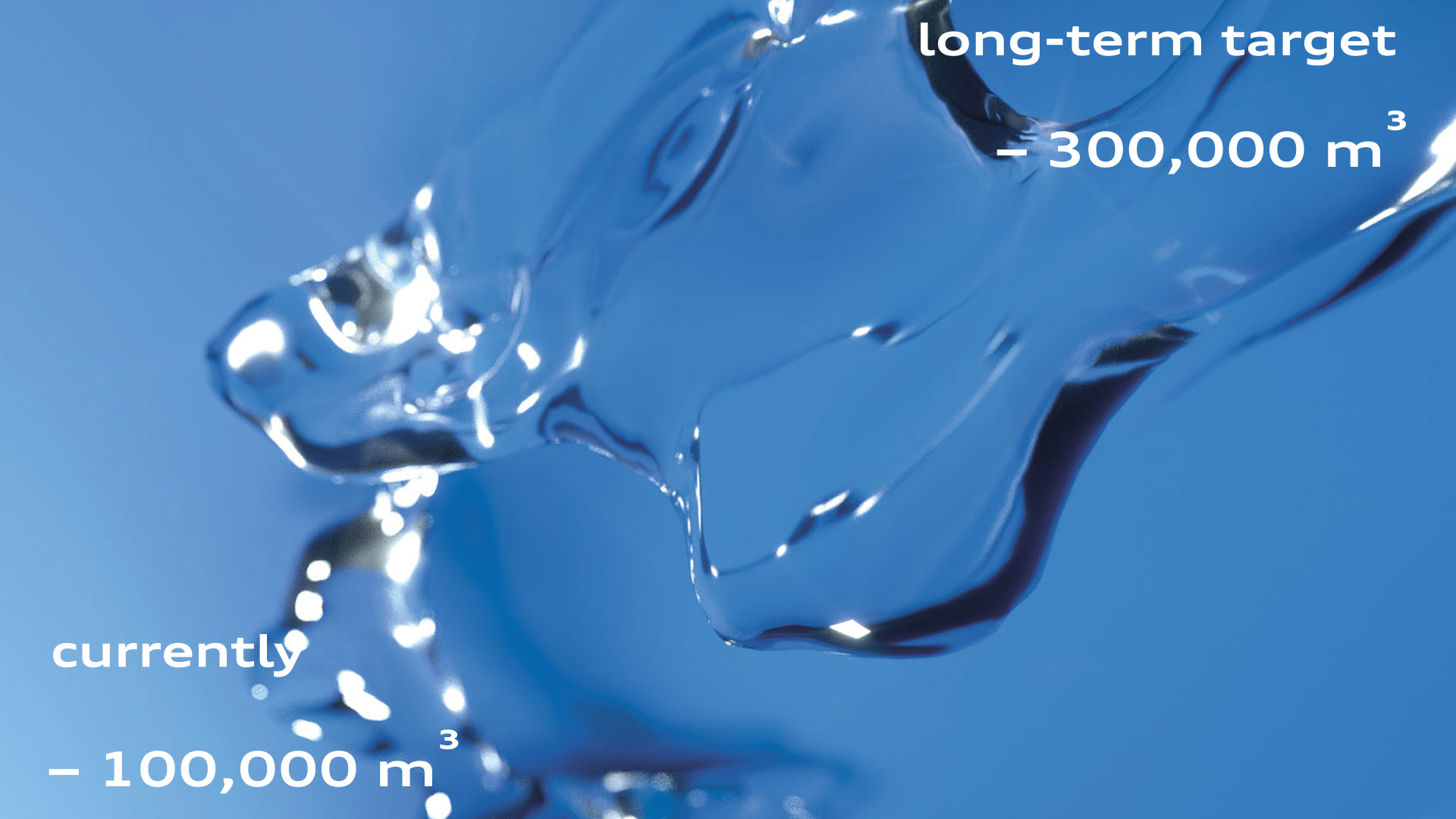 Repairing instead of scrapping
Reuse is another part of the circular economy: Remanufacturing is the industrial overhaul of used parts to produce parts of original quality. This process and the sale of these parts through our spare parts business generates significant added value. And not just environmentally, but also economically, since it saves money. The program for remanufacturing these parts Exchange 2.0 uses digital diagnostic methods to detect, analyze and correct mechatronic anomalies. The program is currently being tested on transmissions and will be extended to other spare parts in the future.


Battery recycling
By 2025, Audi wants to offer 20 electric vehicles. The demand for batteries will therefore increase. Audi is taking steps to make the life cycle of these batteries as sustainable as possible and has been an active member of the Global Battery Alliance. The alliance focuses both on the protection of human rights and social standards when extracting raw materials as well as on the creation of solutions for reusing lithium-ion batteries. Audi also enters into research cooperations, for example with the recycling group Umicore, in order to develop a loop for parts of high-voltage batteries that could in this way be reused again and again. The used batteries also get such a "second life" at the main plant in Ingolstadt where there are currently being used on a trial basis to power fork-lift trucks and towing vehicles. "Every lithium-ion battery represents high energy consumption and valuable resources that must be used in the best possible way," says Peter Kössler, Member of the Board of Management for Production and Logistics at AUDI AG. For this reason, electric mobility at Audi also includes considering a sensible second-use concept for the batteries.


Saving resources such as aluminum
Audi also uses aluminum for its battery housings. This light metal is obtained from bauxite in a process that is very energy-intensive. In order to save resources and energy, Audi has launched the Aluminum Closed Loop project, in which offcuts are returned to suppliers and recycled. In 2018 alone, some 70,000 metric tons of CO₂-equivalent emissions were saved this way. Audi is the first car manufacturer to be awarded the Aluminum Stewardship Initiative (ASI) sustainability certificate for the sustainable production of battery housings.
Audi currently uses
aluminum materials on average – figure growing
2018
savings of CO₂-equivalent emissions through the Aluminum Closed Loop project
equivalent to
reduction in attributable CO₂ emissions
These are just a few areas where Audi is focusing on sustainability in order to close material loops as part of a circular economy. And they show that it is possible.

Audi on the way to the circular economy
Audi supports the United Nations' Sustainable Development Goals (SDGs).

Audi is a member of various initiatives, associations and working groups, for example the Global Battery Alliance and the Aluminum Stewardship Initiative (ASI), working with stakeholders to address ecological, economic and social issues.

The company considers a car's entire product life cycle, not just its emissions during use. By the end of 2025, Audi wants to reduce the environmental impact of Group sites by 35 percent per car produced compared with the reference year 2010. One long-term goal is the closed circular economy.

The Audi vision is to produce vehicles at all sites with no CO₂ emissions or waste water whatsoever. The Brussels (CO₂-neutral) and San José Chiapa (no waste water) plants have already achieved this goal.