Live the legend
The Audi RS Q3.
We don't want to just arrive. We want to get something started. We don't want to follow trends, but do our own thing. And in the right vehicle – a new, compact high-performance SUV: the Audi RS Q3. Everyday usability meets a coupe-like silhouette with athletic design. The legendary 2.5-litre TFSI engine combined with quattro all-wheel drive ensures driving pleasure. Ready to go?
High performance in pictures
Writing its own rules
Thanks to its independent design language, the new Audi RS Q3 impresses with visible performance. The coupe-like downward-sloping roof line gives the compact SUV a distinctive silhouette. Its performance is clear to see, starting from the front: The RS bumper combined with the gloss black Single frame gives the front end a dynamic appearance. Moving to the side, the rising shoulder line and 10 mm flared wheel arches create a muscular feel. Its optional 21-inch alloy wheels are unusual for this model class. And finally, the rear of the Audi RS Q3 finishes strong, featuring the RS-specific bumper with rear diffuser and horizontal blades plus the RS-specific roof edge spoiler.
High performance in figures
Acceleration
0 to 100 km/h
Say goodbye to boredom
With the legendary 2.5-litre TFSI engine and its five cylinders, every drive becomes an adventure. And every curve a sensation – thanks to the standard RS sport suspension, which is 10 mm lower than on the basic model. Damper control improves driving dynamics and directional stability, and also ensures better handling and comfort. To precisely set the direction, the Audi RS Q3 comes with RS-specific, adjusted progressive steering. Reversing was given due consideration as well: with the standard RS steel brake system with optional brake calipers in red or the optional ceramic brakes with calipers in gray, red or blue.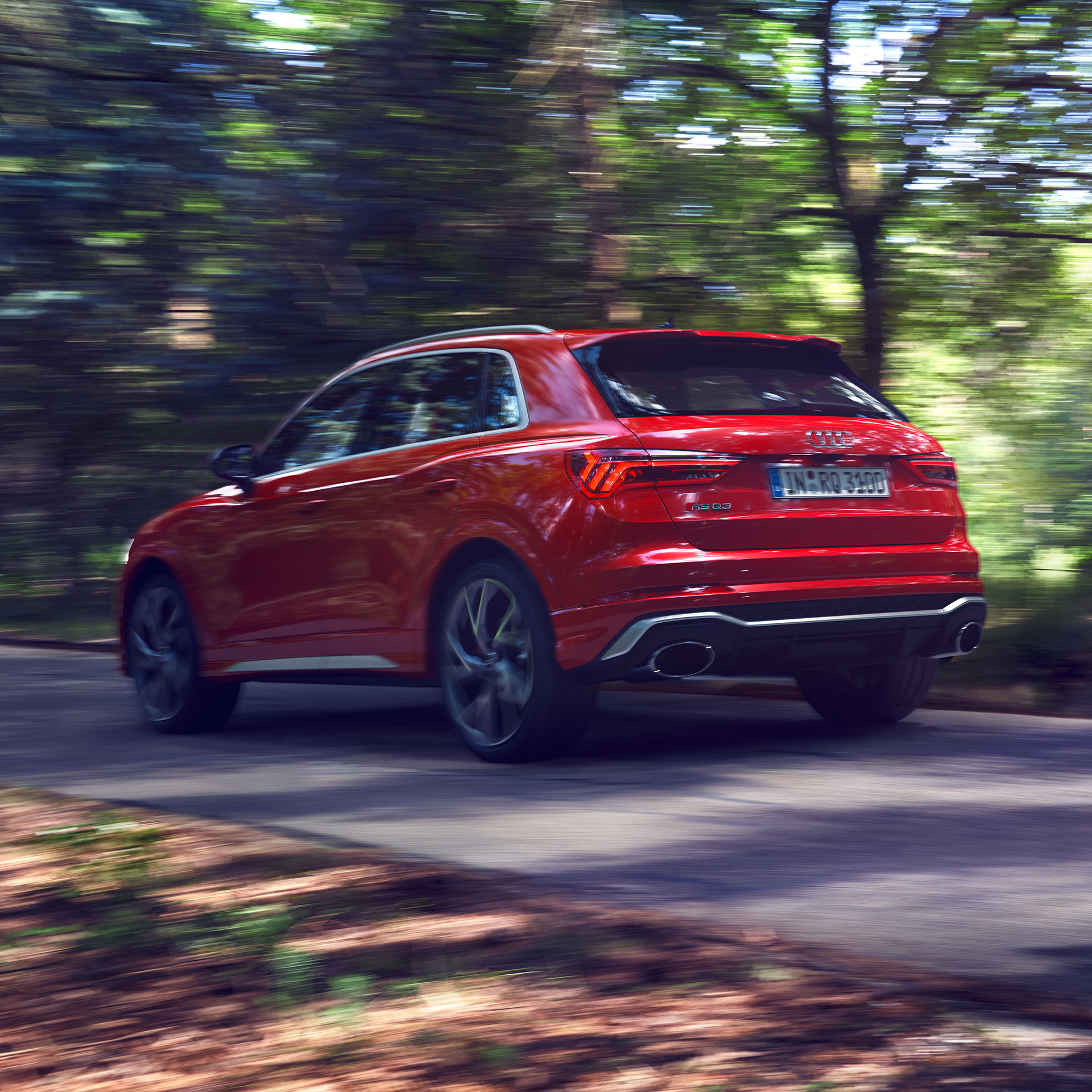 Compromise? No way
Naturally, the interior of the Audi RS Q3 SUV also features a dynamic athleticism. From the standard RS sport leather steering wheel, flattened at the bottom with multifunction buttons, and the standard inlays in aluminum race anthracite – optionally in Piano Black Finish or Carbon – to the standard RS sport seats in fine Nappa leather with RS-specific honeycomb pattern and integrated head restraints.
Room for all possibilities
The new luxury SUV: no need to be pinned down. Besides breath taking performance, the Audi RS Q3 offers superb everyday usability along with room for all sorts of possibilities. You have room for up to five people. You can move the rear seats fore-aft as standard 150 mm and tilt the angle in seven stages. And should you need to take along some bulkier equipment, the luggage compartment holds 530 litres – or up to as much as 1,525 litres if you fold down the seats.